Here are 6 information contents with the power to transform your quality of life!
Given in the form of lectures (about an hour) or workshops combining theory and practice (approximately 3 hours), you will draw to a pioneering wealth of information that will help you rebuild your brain to develop your energy and all your mental abilities!
And for those who wish to go further, Neuroperforma clinics provide comprehensive assessments of your own brain function as well as custom optimization programs. Treatment (attention disorders, sleep or memory disorders, anxiety, depression …), prevention and performance … at your fingertips!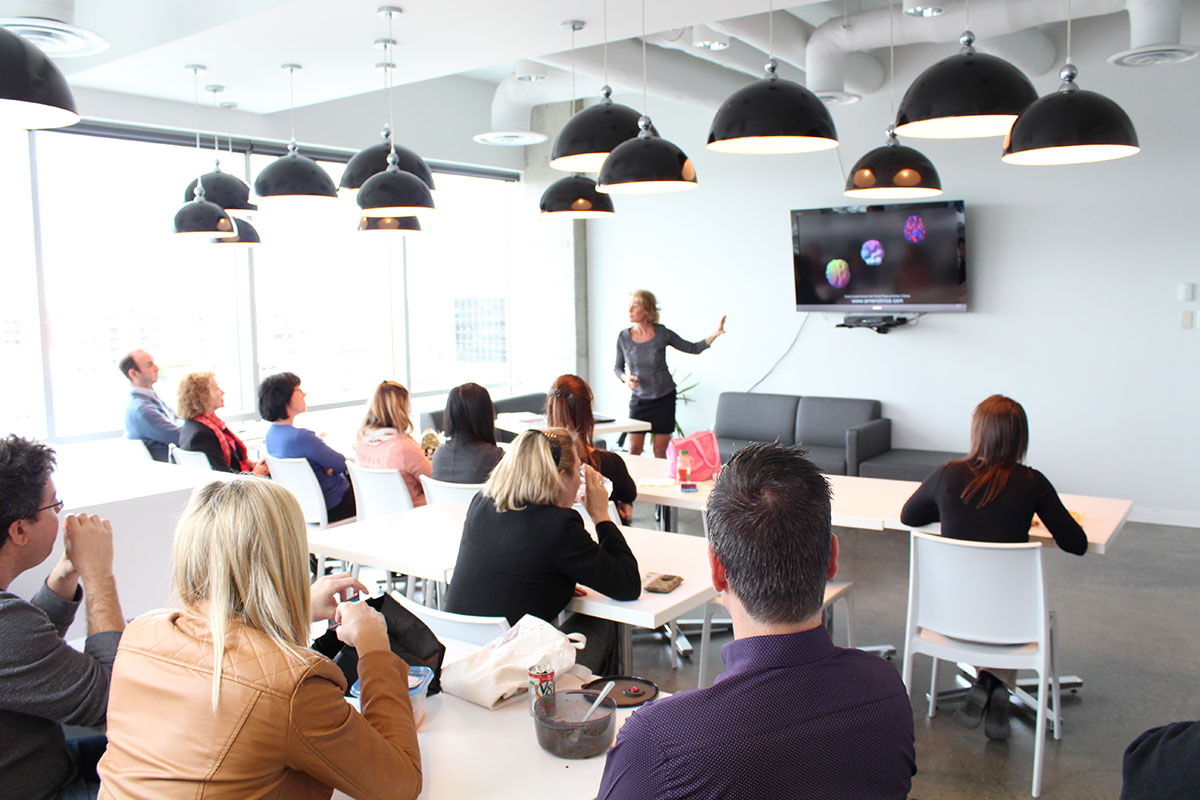 CONFERENCE No. 1: Neuroperformance Within Arm's Reach
Neuroperformance Within Arm's Reach
You would like to feel quick-witted, serene, focused and creative … even after long hours of work? You want to know how your brain works and what you must do to achieve this state of neuroperformance? Then this conference is for you! By optimizing your brain functions, you allow your entire body to better withstand stress and fully recover in record time.
The profits to be gained: The fundamental knowledge on the functioning of the brain and what it needs to perform well; identification of key simple habits that you can incorporate into your daily life in order to become more neuroperformant each day; specific exercise program, targeted maintenance thoughts, nutritional choices, sleep optimization and more.
CONFERENCE No. 2: Depression or Burnout Prevention in your Team
Depression or Burnout Prevention in your Team
You are the manager and know that it is possible for you to reduce absences for mental health causes? Are you interested in welfare and the working environment within your team? During this training, Francine Therrien discusses the signs that can help you detect the early days of a psychological distress process. She will present on the progressive spiral whereby the neurophysiological mechanisms involved in burnout and depression literally change the brain and its physiology. You'll be better able to understand behaviors and their resulting signs. Finally, you will understand the importance of stopping this vicious circle as quickly as possible and you will know how to get there. Your whole team will be better!
The profits to be gained: The ability to detect early signs of absence for mental health disorder, to respond quickly and effectively, to offer brain healthy lifestyle and mental habits, refer to treatments best suited to the situation, and a better understanding of effective treatments.
CONFERENCE No. 3: First Aid Kit for Mental Health
First Aid Kit for Mental Health
Your work or your personal life are too stressful? You have less enthusiasm, a lower level of energy and a weaker desire to move forward? You think this is normal with advancing age? Think again and regain the contol of your capacities, your motivation and your efficiency! There are specific techniques that help reduce the stress experienced by your body and your brain. When working at these two levels, we amplify our ability to handle stress and recover more quickly and efficiently!
The profits to be gained: An awareness of the importance of stress as a trigger of many physical and psychological health problems; the learning of a variety of lifestyle and thinking habits, as well as efficient techniques to significantly reduce biological and psychological stress. The tools will be useful for you and those you love!
CONFERENCE No. 4: I need to Sleep
I need to Sleep
You are struggling with sleep disorders? You feel your energy drowning in a sleep debt that continues to grow? This conference will give you energy! Francine Therrien teaches you the biological mechanisms of sleep, its role in the human organism, its benefits as well as methods for its optimization. You will realize that the knowledge in this area is impressive and that it is translated into a set of simple actions easy to practice. Your health, your mood and your work capacity will be transformed!
The profits to be gained: Greater respect for your need to sleep well and in sufficient quantity. And you will finally know what to do to enjoy an efficient and restful sleep!
If you are having jet lag or work at night, you must understand the fundamentals of sleep and especially how to set your body clock to the night cycle. It's easy when you understand the brain's language! To date, Francine Therrien has established neuroperformance programs in several multinational companies to increase the efficiency of their travelers, managers and night workers.
The profits to be gained : An understanding of how the sleep-wake clock works, better control techniques that help you change your biological clock, an introduction to many available products that have been scientifically demonstrated to help the body and the brain to adapt quickly to schedule changes.
CONFERENCE No. 5: Brain Healthy Nutrition: Important Food and Natural Products
Brain Healthy Nutrition: Important Food and Natural Products
When your brain and your body have in hand all the necessary elements to function well, they feel better, perform better and you are happier! Nutrition is an access key to the state of neuroperformance. Whether to increase the level of concentration or energy, improve mood and sleep quality, science shows us that nutrition makes a difference.
The food guide serves as a reference throughout the country. But to have a powerful brain, diet analysis has to be performed according to more extensive parameters. In her lecture, Francine Therrien will offer nutritional plans that go beyond usual dietary recommendations. Based on an exhaustive search of the scientific literature, they aim to stimulate important mechanisms that are specific to neurons and other brain structures.
The profits to be gained: A thorough understanding of the key concepts of brain healthy nutrition, as well as the awareness of the truth behind the old saying "you are what you eat!" You will be proposed practical suggestions for simple, fast and efficient healthy nutrition!
CONFERENCE No. 6: Neuroperformance to Counter Disability in the Workplace
Neuroperformance to Counter Disability in the Workplace
This workshop allows synthesis, in the format of a half day or a full day session to capture the essence of neuroperformance concepts, as well as their application to three areas of organizational interventions:
Effective prevention of mental health problems within the organization
Optimization of the mental health and of the effectiveness of employees
Integrative, effective and sustainable treatment of mental health disorders
The duration and the extent of various subjects forming the content of the training will be adapted to meet the specific needs of the community addressed by this workshop. Thus, the details of content, the number of exercises and the number of intervention tools presented will vary accordingly.
The profits to be gained:
A new vision of psychological health based on the health and the efficiency of the brain
A better understanding of mental health disorders and mental inefficiencies based on specific dysfunctions of certain brain regions (areas of hypo and hyperactivity of the brain)
a better understanding of individual and organizational factors predisposing to these conditions
The ability to detect these disorders or these underdevelopments
A better understanding of the impact of stress, relationships and work environment, as well as of other lifestyle and thinking habits on the proper functioning of the brain
The firm belief that it is possible to improve and optimize one's brain, regardless of age or past experiences.
The assessment done by Neuroperforma does not consist of a medical diagnosis. Our work is complementary to the evaluation and treatment provided by your healthcare professional.